Central London-based INTERNATIONAL ONLINE AUCTION of Broadcast, TV production, AV & IT equipment from studios, edit houses, insolvency practitioners, production, OB, finance & hire companies across Europe!
(Techbid can arrange packing/shipping anywhere worldwide)
LAST CHANCE! CLOSES FROM 1100GMT TUES 20 AUGUST - BID HERE
Smartphone friendly site - quick & easy bidding from anywhere in the world!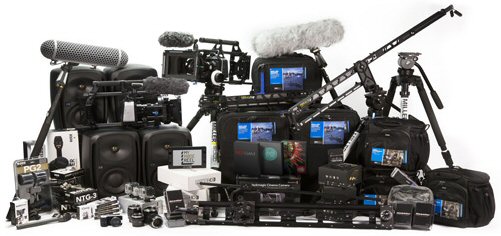 PREVIEW 500+ lots that include:
Sony Z7 & Canon XF305 HD cameras; Vinten/Manfrotto tripods; Sennheiser radio kits
Arri ARRILITE 650W floodlights; Marshall V-R201P 20in LCD HD monitors
Sony BVH-2000PS & BVH-500APS 1in archive decks; GV-D800E portables
Sony HDW-D1800 & D2000 HDCAM & SRW5100 HDCAM-SR & Sony HVRM25E decks
Sony VO9600P & 7630 Umatic archive decks; GV HD/SD IDDR Turbo HDD recorder
Panasonic AJSPD850 P2 recorder/ AJHD1700E & AJHD1400 DVCPRO-HD decks
Vinten Heavy Duty Tripod; Blackmagic Teranex 2D Processor; TVOne C22355 HD scaler
Pioneer PRV-LX10 Pro DVD Video Recorder; Sony SR-R1 HDCAM SR Memory Recorder
Sony SRW-9000 HDCAM-SR camcorder and SRW-1 HDCAM SR Portable
Sony J30 & J3 players; HVR1500 HDV recorder; DVW2000 Digi & DSR2000 DVCAM
Sony MSW-M2000P deck; Snell Alchemist Platinum/PhC/Mach-HD standards converters
Rare Sony AV3670CE archive EIAJ reel to reel 1/2in video recorder
Motorola SE-5011 AVC HD/SD & Ericsson EN8090 encoders
Tandberg RX1290 MPEG4 HD Receiver/Decoder; Tek WFM700M HD-SDI scopes
Marshall/Teletest/Numark triple LCD rack monitors; JVC BRHD50 HDV/DV deck
Panasonic BT-LH1710E/Sony LMD-2450W HD LCD production monitors
Fujinon zoom & focus controls; Sony AN-820A wireless microphone rack receivers
Panasonic AJD580 D5 archive deck; JVC BRD800 Digital-S Player
8mm & 16mm cine projectors; MurrayPro Pico tabletop PPM audio metering
Flight cases, bags, drums of cable, and lots more!
DOWNLOAD full catalogue with photos!
All lots are available to view at our premises BY APPOINTMENT ONLY until 19th August

To receive regular lists of used broadcast equipment, click here:
support@techbid.co.uk

If you would like to enter your surplus equipment into this online sale, please contact us:
support@techbid.co.uk

Please be sure to visit www.techbid.co.uk for full terms & conditions before bidding!