Central London-based INTERNATIONAL ONLINE AUCTION of HD/SD broadcast, AV and production equipment from studios, edit houses, production, OB, finance & hire companies across Europe!
(Techbid can arrange packing/shipping anywhere worldwide)
ENDS TUES 26 FEBRUARY - BID HERE NOW!
Smartphone friendly site - quick & easy bidding from anywhere in the world!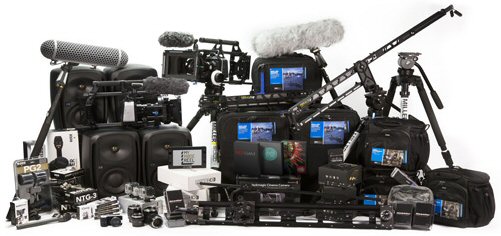 DOWNLOAD full catalogue or PREVIEW the auction of 500 lots including:
Sony PMW200/PDW700 cameras; Blackmagic cinema cameras
Canon C300/XF305 cameras; Vinten tripods; Tandberg EN8100 encoders
KinoFlo lighting; Bose components; Sonifex RedBox; Sony Z1 camera
Sony SRW5500/5800 HDCAM SR decks; Wharton studio clock; Bose kit
Sennheiser radio mic kits; Panasonic 25in & JVC 17in HD-SDI pro monitors;
Sony HDW-D2000 HDCAM decks; Zoom & focus demands; Glensound 4-wire
Wohler 3G audio mon; DKTech HD-SDI monitoring; RTS intercom kit
Sony HXR-MC1P HD Minicam rx kit; Rycote windshields; green screen
Marshall monitors; Canon lenses/demands; Chrosziel matte boxes; Coles lip mic
Smart System slider; PDW-HD1500 XDCAM deck; Canon XF305 cameras
Canon 5D/7D bodies; Rimage BluRay disc publisher with consumables;
Panasonic HDX900 camcorder; Sony HDVF20A HD viewfinders; magic arms
Sony M2000, MSW2000 & J3 archive decks; Sachtler Munchen tripod system
Rimage BD disc publisher; Tandberg encoders; PDW-HD1500 XDCAM
Leader/DKTech HD-SDI monitoring; Ericsson 3G encoder; Bebob/DTS LED lights
Vocas shoulder rigs; Motorola radios; Peli & other flight cases, bags etc.
REMEMBER! Techbid can arrange packing & shipping worldwide of most lots purchased (details on Techbid website)

To receive regular lists of used broadcast equipment, click here:
support@techbid.co.uk

If you would like to enter your surplus equipment into this online sale, please contact us:
support@techbid.co.uk

Please be sure to visit www.techbid.co.uk for full terms & conditions before bidding!