Central London-based INTERNATIONAL ONLINE AUCTION of Broadcast, TV production, AV & IT equipment from studios, edit houses, insolvency practitioners, production, OB, finance & hire companies across Europe!
(Techbid can arrange packing/shipping anywhere worldwide)
HUGE ONLINE AUCTION: LAST CHANCE TO BID
(CLOSING TODAY from 1100h GMT Tues 18 Sept)
Smartphone friendly site - quick & easy bidding from anywhere in the world!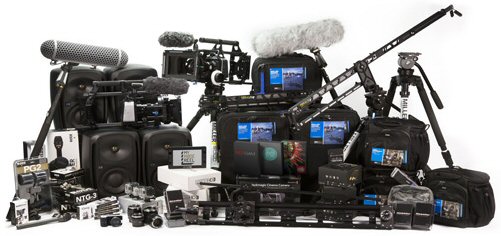 Download CATALOGUE or PREVIEW 600 lots entered so far including:
Sony FS7, FS5, F800, PMW500 cameras; Teradek Cube HD encoders
Canon C300, XF305; Blackmagic CineCam; Sony Z1/Z7 cameras; matte boxes
Sennheiser radio kits; Coles lip mics; RED mini-tag; Panasonic POVCams
Miller 1690 Arrow 40 tripod system; Marshall 4K PTZ camera; shoulder mounts
Newtek TriCaster HD production studio, with virtual sets; AJA KiPro 4k recorder
Blackmagic 4K/HD monitors; Panasonic HMR10 recorders; AJA 4K Rovocam
Avolites Art 2000 48way rack; Zenith 620R Mk3 roller-base wind-up stands
Grass Valley T2 iDDR HD disk recorders; Polecam HD kit; Glidecam HD4000
Litepanels Sola 4+ Fresnel daylight LED kits; Sony/Rode/AKG mics; Airwheel
Allen+Heath/Soundcraft/Audio Developments/Mackie/Alesis sound mixers
AJA 4K/HD converters; Panasonic HMR10 portable recorders; Vinten heads
Blackmagic 3G/HD Studio monitors (single/dual); Anton/Bauer chargers etc
TV-Logic/DK Audio/Wohler mons; Tek spectrum analyser; S&W upconverter
Vinten Pro9 fluid head; Peli cases; Shure PSM200 personal monitoring
DBX compressors; Focusrite preamps etc; Tascam multi-tracks; Edirol speakers
Studio timecode clocks; Focusrite preamp, flight cases; SR tape stock etc..
All lots are available to view at our premises BY APPOINTMENT ONLY until 17th September

To receive regular lists of used broadcast equipment, click here:
support@techbid.co.uk

If you would like to enter your surplus equipment into this online sale, please contact us:
support@techbid.co.uk

Please be sure to visit www.techbid.co.uk for full terms & conditions before bidding!