Central London-based INTERNATIONAL ONLINE AUCTION of HD/SD broadcast, AV and production equipment from studios, edit houses, production, OB, finance & hire companies across Europe!
(Techbid can arrange packing/shipping anywhere worldwide)
ONLINE KIT AUCTION: LAST FEW DAYS TO BID!
Smartphone friendly site - quick & easy bidding from anywhere in the world!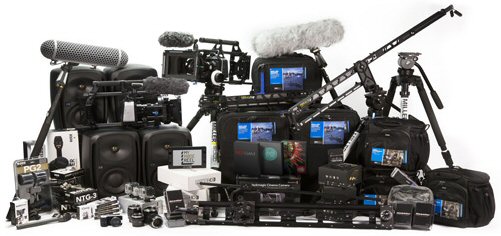 PREVIEW the auction of 500 lots including:
Sony HDW-D2000 & M2000 HDCAM decks; Coles lip mics
Blackmagic 17in Smartview 4k/HD monitors; Glensound GSGC codecs
Sony EX3/Canon XF305 cameras; Mackie & Yamaha audio mixers
Polycom C8 & C12 conferencing units; Christie L2K1000 HD projector
Sony LMD172W/232W HD monitors; AJA 4k to HD converteters
JVC KM-H3000U HD switcher/effects gen; Sony PDW1500 XDCAM deck
Multidyne SilverBack 4K5 UHD systems; Trilogy Commander & Telex talkbacks
Tektronix 700M/7020 HD scopes; Telex talkback & panels
Panasonic HPX2100E P2 HD camcorder; Sony DNWA225P SX deck
Polycom Soundstructure C12 & C8 video conferencing units
Tandberg EN8090 HD-SDI dual IP encoders; Sennheiser G2/G3 radio kits
Anton Bauer & Canon chargers; Sennheiser rifle mics; Vinten tripod
Sony HDVF20A 16:9 Hi-res CRT HDviewfinder; Leitch DTD-5200 studio clock
Sony HDW790 HDCAM camcorder; CCS Musicam CDQ1000 audio codecs
Panasonic HD Vision mixer; Trilogy Commander talkback; Petrol bags;
Behringer/BSS compressors & equalisers; Ericsson IP encoders
Panasonic BT-LH1700E 17in HD-SDI monitor; assorted flight cases….
REMEMBER! Techbid can arrange packing & shipping worldwide of most lots purchased (details on Techbid website)

To receive regular lists of used broadcast equipment:
support@techbid.co.uk

If you would like to enter your surplus equipment into this online sale, please send a list to:
support@techbid.co.uk

IMPORTANT! Please be sure to visit www.techbid.co.uk for full terms & conditions before bidding!