Central London-based INTERNATIONAL ONLINE AUCTION of HD/SD broadcast, AV and production equipment from studios, edit houses, production, OB, finance & hire companies across Europe!
(Techbid can arrange packing/shipping anywhere worldwide)
FINAL WEEK! BID HERE NOW!
Smartphone friendly site - quick & easy bidding from anywhere in the world!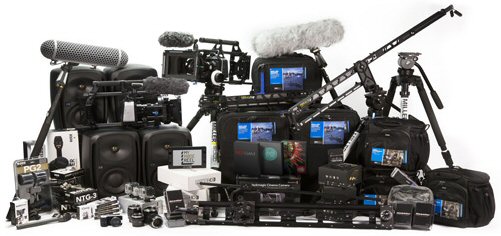 DOWNLOAD full catalogue or PREVIEW 500 lots including:
Sony PDW-F800, PMW-F55, Canon EOS 5D & 300 cameras; AJA LUT box
Sennheiser & Audio Ltd radio mic kits; Peli flightcases; shoulder mounts
Newtek TriCaster Mini HD-4i; Spark Lighting Bi-Colour LED Lighting
Ikegami HTM-1990-R 19in HD-SDI CRT monitors
Vinten baby legs; Chrosziel matte-box systems; AJA converters
Sony EL100 OLED viewfinder; Rycote pistol grips/windshields
Prospect talkback; Yamaha sound mixers; Sennheiser headphones
Sennheiser SKP5200 & SKP3072 radio mics; SR3054 in-ear monitoring
Sony BVM-L2300 HD broadcast monitor; Harris VTM4100 HD scope
Panasonic HPD24 & HPG20 P2 HD decks; MSU10 P2 storage unit
Canon EF24-105mm lens; Fujinon clamps; J11, J14 & J16 lenses; PPM meters
Beyer Opus-81 & M58N mics; Leitch X75 converters; Edirol speakers
D5, DVCPRO-HD & HDCAM decks; SRW9000 SR camcorder; Evertz timecode
Ikegami HD monitors; Optex image intensifier; Tandberg MPEG4 receiver
Convergent NanoFlash HD/SD Recorder/Players ; box lens rain covers
Avid MEDIArray XT with 16TB; DigiDesign interfaces; Unity shared storage
Hawk-Woods batteries; HDV/Hi-8/DVCAM/Digi decks; Omneon Mediaports
Pathescope 9.5mm film projector; Bel HD audio monitoring; Aphex preamps
Marshall on-camera monitor; Petrol/Orca bags, flightcases, etc…
REMEMBER! Techbid can arrange packing & shipping worldwide of most lots purchased (details on Techbid website)

To receive regular lists of used broadcast equipment, click here:
support@techbid.co.uk

If you would like to enter your surplus equipment into this online sale, please contact us:
support@techbid.co.uk

Please be sure to visit www.techbid.co.uk for full terms & conditions before bidding!