Central London-based INTERNATIONAL ONLINE AUCTION of HD/SD broadcast, AV and production equipment from studios, edit houses, production, OB, finance & hire companies across Europe!
(Techbid can arrange packing/shipping anywhere worldwide)
LAST CHANCE! BID HERE
*Closes from 1200GMT Tues 2 March*
Smartphone friendly site - quick & easy bidding from anywhere in the world!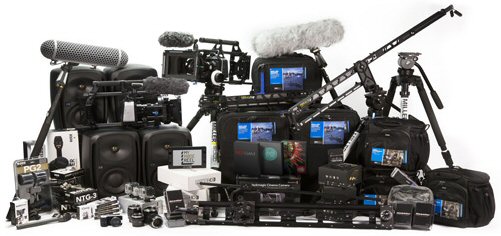 Sale comprises over 450 lots including:
Panasonic AJ-HPX2700G P2HD VariCam camcorder; Autocue systems
Canon 7D; Sachtler FSB-8 fluid head; Secced 2-stage CF tripod
DJI Ronin kit; Freefly MoVI kit; IDX/Swit batteries
Canon Prime lenses; Vinten Vision 22 head; Ronford heavy duty legs
Glidecam HD-4000 hand-held camera stabiliser; Sony D24E1WE CRT mon
Tascam digital 24-track recorder; Panasonic DLP 1080p projector
Wohler E-Mon1 HD-SDI audio monitor; Peli Cases 1550
Sennheiser EW100 G3 radio mic kits; Portabrace camera bags
Sound Devices 552 Portable Production Mixer; JVC DT-V17L2D 17in HD monitor
Honda generator; Monitor racks - dual, triple, quad LCD 16:9
TSL active audio monitors; Canon & Fujinon zoom lenses
Panasonic HD viewfinder; Nanguang/Litepanels bi-color lights
Tandberg EN8090 H264 HD encoder; Blackmagic Ultrastudio Mini mon
Sony SRW5500 HDCAM SR & DSR2000P SDI decks; PDW-U1 XDCAM drive
Harris CVM-306 HD signal analyser; Rohde & Schwarz APN62 sig-gen
AS EASYRIG 8-18KG Gimbal Vest Easy Rig + Serene arm
E-Scooter; E-Bike; Apple iPhone 7; HP All-in-One PCs
Supermicro servers; Telecast fibre systems; Clearcom RS-802 Beltpack
SmallHD MON702 7in On-camera HD Monitor; SmallRig Shoulder Rig Unit
Aputure Amaran Bi-Color LED Flood Light
Zoom hand recorders; GoPro Hero3+ kit; Skytec active stage mons
AKG C747 Mic kits; Tram mics; Rode NTG-2 Short shotgun mic
Telex/RTS/Sonifex telephone hybrids; AJA interface boxes
Panasonic TH-75EF1W 1080p LED display (digital signage etc)
Apple monitors; various flightcases & bags
MORE LOTS ADDED EVERY DAY!
REMEMBER! Techbid can arrange packing & shipping worldwide of most lots purchased (details on Techbid website)
- Viewing in London W1 by appointment until 01 March

To receive regular lists of used broadcast equipment, click here:
support@techbid.co.uk

If you would like to enter your surplus equipment into this online sale, please contact us:
support@techbid.co.uk