Central London-based INTERNATIONAL ONLINE AUCTION of Broadcast, TV production, AV & IT equipment from studios, edit houses, insolvency practitioners, production, OB, finance & hire companies across Europe!
(Techbid can arrange packing/shipping anywhere worldwide)
LAST CHANCE - Auction ends 17 May from 1100GMT !
Smartphone friendly site - quick & easy bidding from anywhere in the world!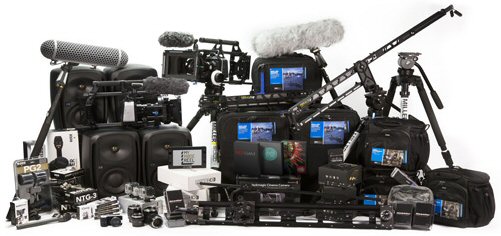 Auction comprises over 400 lots including:
Sony Anycast AWS-G500 HD/SD 6ch Live content producer
Avid ISIS 5500 192TB Shared workflow storage
Sony HDC-1500 HD cameras, HDCU-1000 CCUs
IDX Cam-Wave 5.2GHz wireless system
Tektronix WVR-7020 HD Rasterizer
Sony BVM-D24E1WE 24in CRT grading monitor
Fujinon/Canon zoom lenses; Canon ZSD-300M zoom demands
Soundcraft B400 sound mixer with bridge
Grass Valley Indigo HD Video/Audio Mixer system
AMX All-in-One 10x4 Presentation switcher
Sony PMW 200 camera; Sony HDVF-20A HD viewfinders
Vinten Vision 22 pan/tilt fluid head
Epson ELP LU03 wide-angle projector zoom lenses
Dedo/Kino Flo lighting; Vocas matte boxes
Peli flight cases; Portabrace wheeled cases
Apple Mac Pro computers; Clockaudio boundary layer mics
Prospect telephone hybrids/ IFB amps
Sony SBAC-US20 SxS card readers
Thermoplan Black&White3 automatic bean-to-cup Pro coffee machine
And lots, lots more...!
Viewing/testing by appointment only, until 16th May
REMEMBER! Techbid can arrange packing & shipping worldwide of most lots purchased (details on Techbid website)
To receive regular lists of used broadcast equipment, click here:
support@techbid.co.uk

If you would like to enter your surplus equipment into this online sale, please contact us:
support@techbid.co.uk

Please be sure to visit www.techbid.co.uk for full terms & conditions before bidding!