Central London-based INTERNATIONAL ONLINE AUCTION of HD/SD broadcast, AV and production equipment from UK studios, edit houses, production, finance & hire companies
(Techbid can arrange packing/shipping anywhere worldwide)
SEPTEMBER AUCTION OPENING SOON!
Smartphone friendly site: quick & easy bidding from anywhere in the world!
Meet us at IBC in Amsterdam, 9-13 September!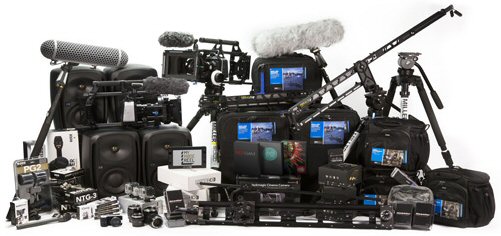 Preview over 500 lots that have been entered so far, including:
Sony HDW790 HDCAM & PDW-F350 XDCAM & PMW-EX1 camcorders
Sony LMD2050W HD-SDI broadcast LCD monitors; Sony LMD170W with engine
Canon HJ22 HD zoom lens; ZSD300D zoom demand
PIX 240i Portable video recorder; TV One C2-2100A Scan Converter with Genlock
Leader LV7330 rasterizer; Wohler EMON-1 audio monitoring
Panasonic BT-LH2600WE HD monitor; Apple 20in Cinema screens
Leitch studio TC clocks; Zandar HD4 & Evertz 12-input multiviewers
Wohler EMON-1 audio monitoring; Murraypro PICO desktop audio PPMs
Sony J30SDI, J3, DVWA500P, DSR1500AP & MSW-M2000 decks
Tandberg EN8090 & E5788 HD-SDI encoders
Drake 4000 Talkback system; Prospect C4LD IFB Talkback unit
Decimator Quad 3G/HD/SD-SDI Quad Split; multiviewer
Canon J20 Super 7.5-150mm F/1.5 Box TV lens
Panasonic AJ-D950E DVCPRO50 deck
Avid 8TB & Hill 3.6TB Raid Storage Arrays
ESE HD488E Time Code Reader/Generator/Inserter; Leitch timecode clocks
Sony DSR50 Portable DVCAM player; Soundcraft Spirit sound mixers
Argosy power distribtion units, flight cases, Alice Matchpaks etc
REMEMBER - Techbid can arrange packing & shipping worldwide of most lots purchased
All lots can be viewed in W1, by appointment only
If you would like to enter your surplus equipment into our next online sale, email us at:
Request at support@techbid.co.uk to receive regular lists of used broadcast equipment!
Please be sure to visit www.techbid.co.uk for full terms & conditions before bidding!